The mission of the Office of Community College Research and Leadership (OCCRL) is to use research and evaluation methods to improve policies, programs, and practices that enhance community college education and the transition to college for diverse learners at the state, national, and international levels. 
For over 30 years OCCRL has conducted research on programs, policies, and practices that span P-20 education and strengthen pathways to postsecondary education and careers. With an intense focus on how community colleges impact education and employment outcomes, OCCRL enhances results for diverse youth and adults who want to transition to and through college to further their education and/or their gainful employment.
Results of OCCRL's studies are disseminated worldwide. Reports and materials are derived from new knowledge captured and distributed through OCCRL's website, scholarly publications, and other platforms.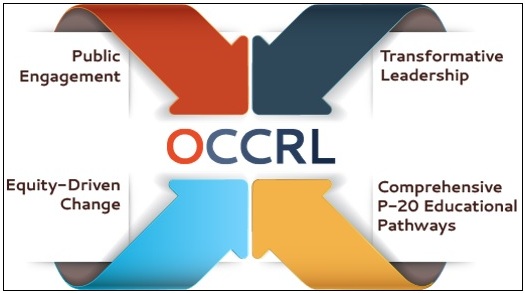 Strategic Direction and Priorities
As one of the longest-standing community college research centers and an early adopter and contributor to educational pathways work, OCCRL uses integrated methods and approaches that support institutional change through adoption and adaptation that is responsive to institutional contexts. OCCRL accomplishes its strategic direction and priorities through activities, research, and development in four core areas:
Equity-Driven Change: OCCRL promotes holistic approaches to bolster equitable engagement and outcomes across diverse student populations in high-quality academic programs and careers across the education pipeline.
Comprehensive P-20 Educational Pathways: OCCRL researchers employ culturally responsive and equity-centered approaches to studying and supporting comprehensive college and career pathways that include opportunities for students to pursue their immediate goals (basic skills, training, certificates, degrees) while providing them seamless opportunities for further education.
Transformative Leadership: OCCRL approaches change from a systemic viewpoint that encourages collaborative methods while facilitating meaningful change across programmatic and co-curricular aspects of the overall student experience. OCCRL provides instructional and administrative leadership coaching that builds individual and organizational capacity to address systemic racial barriers affecting students, actively promotes equity, and closes gaps in outcomes.
Public Engagement: OCCRL embraces public engagement and fosters two-way conversations on research, leadership, and practice that provides the foundation for equitable outcomes and focused improvements across institutional contexts.
OCCRL was formed at the University of Illinois at Urbana-Champaign in the fall of 1989 thanks to a grant from the Illinois State Board of Education, which went to the now-revamped Department of Vocational and Technical Education in the College of Education. Soon after, OCCRL attracted funding soon after from the National Center for Research in Vocational Education in the U.S. Department of Education of which the College of Education was a consortium member.
Focusing its agenda on community college education, OCCRL added funding from other federal and state government agencies over the next decades. Of note is the continuous funding from the Illinois Community College Board since the mid-1990s, which has provided research and development toward understanding and improving community college education in Illinois.
Dr. Debra Bragg led OCCRL's projects from the organization's inception through April 2015, securing more than $17 million in grants from numerous government and private funders. During this 25-year period, OCCRL supported more than 100 graduate research assistants who were pursuing master's degrees and doctoral degrees.
The breadth of research associated with OCCRL has been extensive from the start with a focus on studies of college access and completion leading to employment for underserved student populations. This research was steered by Dr. Bragg through 2015 and included career technical education and career pathway policies (U.S. Department of Education, U.S. Department of Labor, and the Joyce Foundation), transfer education (Bill & Melinda Gates Foundation), transformative change of community college education (Lumina Foundation and Gates Foundation), and applied baccalaureate degrees (National Science Foundation and Lumina Foundation).
In addition, Dr. Bragg is the creator and initial principal investigator (PI) of Pathways to Results (Illinois Community College Board), an equity-focused program that works toward continuous improvement and has proliferated through the Illinois community college system and to many other states.
Also of note is the late Barbara Townsend, a treasured collaborator of founding OCCRL director Dr. Bragg. Bragg and Townsend co-authored numerous grant proposals and publications.
In April 2015, Dr. Eboni Zamani-Gallaher was named director of OCCRL. Zamani-Gallaher completed her Ph.D. at Illinois while working at OCCRL and was recruited back to Illinois becoming OCCRL's second director. After attaining her doctoral degree, Zamani-Gallaher held tenure-line faculty positions at West Virginia University (2000-2001) and Eastern Michigan University (2001-2014) where she was promoted to full professor in 2010 and where she created the community college leadership graduate program. She joined the faculty of the University of Illinois fall 2014 and was Professor of Higher Education and Community College Leadership in the Department of Education Policy, Organization & Leadership (EPOL). During her tenure at Illinois, she served as Associate Head of the EPOL Department and was Associate Dean of the Graduate College at Illinois.
Throughout her career, Zamani-Gallaher's scholarship has focused on adjustment and transition of marginalized collegians, racial inequities in transfer, access policies, equitable student outcomes, student development, and services at community colleges. As the Director of OCCRL, she led a portfolio that was race forward, equity conscious, and critically engaged socially just action research. She steered work on college and career readiness, racial campus climate, CTE equity, postsecondary pathways for foster youth minority-serving community colleges (MSCCS), Open Education Resources, community college STEM pathways.
Dr. Zamani-Gallaher broadened OCCRL's reach and amplified its brand. Zamani-Gallaher extended the scope of OCCRL relative to access, participation, and completion. During her seven years as Director of OCCRL, she was the principal investigator (PI) of 9 million in grants and contracts which supported over 30 doctoral research assistants and a half dozen master's and undergraduate assistants. Among the externally funded projects she led while at OCCRL, her work has been supported by numerous foundations, state, and federal funds. Zamani-Gallaher has been PI for multiple Bill & Melinda Gates Foundation grants including Equity Conscious Community College Pathways (EC3P) which examined embedding equity into guided pathways programming. She original PI of the 2021 launched Racial Equity for Adult Credentials in Higher Education (REACH) and PI of the Advancing Racial Justice and Equitable Outcomes in Community Colleges Institutes both funded by the Lumina Foundation as well as two National Science Foundation grants that funded the STEM Pipeline at Two-year Hispanic Serving Institutions and Transitioning Learners to Calculus in Community Colleges (TLC3): Advancing Strategies for Success in STEM Collaborative Research projects.
Dr. Zamani-Gallaher's leadership was integral in continuing grants with the Illinois Community College Board (ICCB), serving as project director in delivering technical assistance, conducting evaluation and research on Illinois minority-serving community colleges, race-equitable CTE pathways and Comprehensive Local Needs Assessment (CLNA), equity-minded community college program review, and CTE apprenticeships.
Through the years a litany of full-time researchers and faculty members have affiliated themselves with OCCRL, including Krystal Andrews, Steven Aragon, Lorenzo Baber, Gianina Taylor Baker, Elisabeth Barnett, Carianne Bishop, Marisa Castellano, Randi Congleton, Mark Combs, Dan Cullen, Donna Dare, Jose Del Real Viramontes, Carolyn Dornsife, Fredrick Douglass Dixon, Raina Dyer-Barr, Jeffrey Flesher, Osly Flores, Heather Fox, Colvin Georges, Matt Giani, Don Hackmann, Tim Harmon, Chaddrick James-Gallaway, Natasha Jankowski, Royel M. Johnson, Ann Jones, Sadya Khan, Catherine Kirby, Frankie Santos Laanan, Jane Loeb, Julia Panke Makela, Heather McCambly, Brandi Neal, Kathy Marie Oertle, George Reese, Deborah Richie, William Reger, Marci Rockey, Collin Ruud, Jason Taylor, Chauntee Thrill, Donna Tonini-Larkin, Francena Turner, Angel Velez, Anjalé Welton, Asif Wilson, HyeJin Tina Yeo, and  Eboni Zamani-Gallaher.
Dr. Lorenzo Baber is Professor of Higher Education in the Department of Education, Organization, Policy and Leadership (EPOL) in the College of Education. August 2022, Baber became the third and current Director of the Office of Community College Research and Leadership at the University of Illinois at Urbana-Champaign. Baber was recruited back to Illinois to steer OCCRL and serve as Graduate Programs Co-Director for the EPOL Department. Prior to rejoining faculty at the University of Illinois, Urbana-Champaign, he held tenure-line faculty appointments at Loyola University Chicago and Iowa State University.
Baber is past president of the Council for the Study of Community Colleges (CSCC) and is an active member of the Association for the Study of Higher Education (ASHE) and the American Educational Research Association (AERA). Dr. Baber is the author of nearly forty journal articles, book chapters, and policy reports. He has participated on research teams that have collectively secured over $5 million in grant funding. His scholarship has been published in leading higher education journals and featured in public spaces, including the National Science Foundation website and National Public Radio (NPR).
Dr. Baber has professional experience as a mid-level administrator in Undergraduate Admissions, Multicultural Affairs, and Residence Life. Baber's scholarly interest broadly examine equity and social justice in post-secondary education. His research foci include leadership within community college contexts; experiences of minoritized students in postsecondary STEM education; and use of critical theory to inform higher education policies and practices. 
Dr. Baber holds a Ph.D. in Education Policy Studies (with an emphasis in Higher Education and cognate in Sociology) from Pennsylvania State University. He proudly hails from Greensboro, North Carolina.