Office of Community College Research and Leadership
Our mission is to use research and evaluation methods to improve policies, programs, and practices to enhance community college education and transition to college for diverse learners at the state, national, and international levels.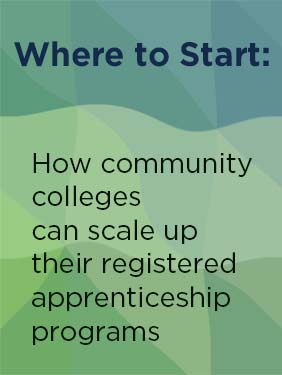 Where to Start: How Community Colleges Can Scale Up Their Registered Apprenticeship Programs

The purpose of the episode is to bring together community colleges and other partners who are working to scale up their registered apprenticeships. This informative panel includes Matthew Feuerborn the Dean of Career Technologies Division at Kishwaukee College, Dr. Rebecca Lake the Dean of Workforce and Economic Development at William Rainey Harper College, Dr. Henry Bohleke the Dean of The School of Business and Technology at Triton College, and Joshua Seeberg the Midwest Manager of the German American Chamber of Commerce's Skills Initiative. The panel was hosted by Dr. Anjale Welton and Devean Owens.
Sign up to receive news and updates about OCCRL, Credit When It's Due (CWID), Pathways to Results (PTR), and the Transformative Change Initiative (TCI).
Subscribe ›