Office of Community College Research and Leadership
Our mission is to use research and evaluation methods to improve policies, programs, and practices to enhance community college education and transition to college for diverse learners at the state, national, and international levels.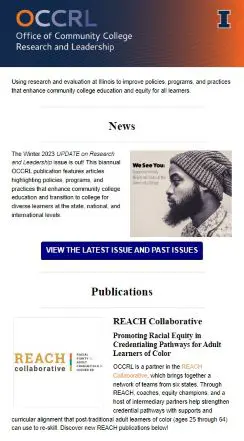 In this edition of Network News, readers can discover the winter edition of the UPDATE on Research and Leadership issue, which includes pieces on supporting racially minoritized adults at the community college and using rubrics to support the Program Review process. Other newsletter content includes an "Advancing Racial Equity in CTE" webinar, a flashback blog post to the 2021 Council for the Study of Community Colleges Conference, connections made at the inaugural summit of the National Community College Research Alliance, and the latest in higher education news.
OCCRL is a partner in the REACH Collaborative, which brings together a network of teams from six states. Through REACH, coaches, equity champions, and a host of intermediary partners help strengthen credential pathways with supports and curricular alignment that post-traditional adult learners of color (ages 25 through 64) can use to re-skill.