H.M. Kuneyl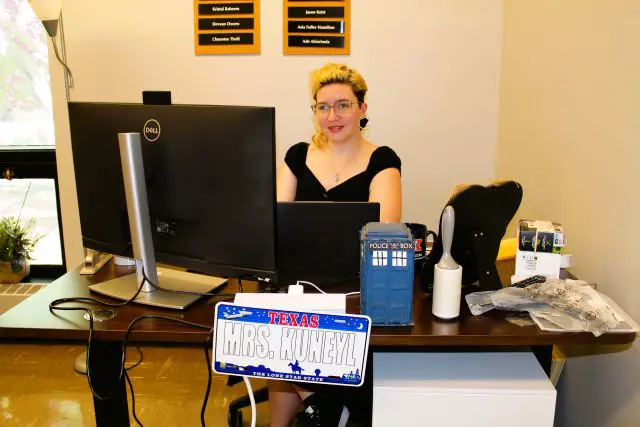 "I consider myself a community college success story."

OCCRL graduate research assistant H.M. Kuneyl is from Houston, the fourth of six children who were all homeschooled. "Raised at the intersection of Southern hospitality and Midwestern nice," as Kuneyl described it, she bent traditional gender rules by exploring interests such as hunting and animal husbandry. Kuneyl struggled with reading as a child and remained illiterate until age 12. Despite the embarrassment and bullying she felt and experienced due to her illiteracy, Kuneyl tenaciously learned to read and eventually found comfort in reading to her younger siblings.
Kuneyl's self-taught education fostered a lifelong love of learning and research, starting with her time at Lone Star College-North Harris, an affordable postsecondary option and a quick commute.
"Attending community college provided a place to transition into adulthood and a safe place to explore the world," Kuneyl said. "It was a place to try out new academic interests that I never would have had exposure to otherwise. Lone Star gave me a place to start."
What was it like being a first-generation college student?
I'm not sure the phrase "first-generation college student" meant much to me at the time, as I rather foolishly assumed my experience was common. No one in my social circle had ever gone to college, so I have no context of student life, traditional or otherwise. Looking back, I would describe the first-generation experience as being akin to Alice falling into the looking glass and everyone she meets assuming she is the one who is ridiculous.
How do you view community colleges as being institutions that provide equitable opportunities for students pursuing a postsecondary education?
I consider myself a community college success story. I am a student who started out in developmental math and English and worked her way up to being an honors scholar with distinction. However, there is still a lot of work to be done. The rising costs of higher education, the ever-changing social-political landscape, and the recent SCOTUS ruling on affirmative action make it clear that community college is now, more than ever, a critical component of accessible education. I just hope that community college personnel and policymakers are ready and willing to step up and lead the charge for equity and postsecondary education, as they have in the past.
Texas, Virginia, and Illinois. Three different states with varied policies and people. How would you compare the three states during your time in them?
That's a great question that I could properly write a whole dissertation on. Texas is a large state with 26 different community colleges and systems. For example, the Lonestar College system is counted as one when it really has seven campuses and several centers under its various campuses. Virginia has 24 community colleges under one statewide system, and Illinois has 48 community colleges loosely connected by systems, relationships between presidents, and professional organizations.
Each state has a different approach to transfer, while Texas and Illinois have voluntary articulation agreements between individual institutions. Virginia has a mandate for public institutions and an open invitation for private, nonprofit colleges and universities. So structurally and organizationally, each state is very different. However, all three espouse a strong commitment to the missions of community college.
"One cultural thread I've seen in all three states is symbols of the civil war."
One cultural thread I've seen in all three states is symbols of the civil war. Although Virginia and Illinois fought on different sides of the war, they still both display reminders of the solemn time in our nation's history. For every statue of Lincoln and every building named after him, there is a confederate aspect of the war in Texas and Virginia. I don't mean to suggest that a portrait of Lincoln on every license plate in Illinois is the same as a confederate flag in the South, but it does show that the country has not moved past the war. This speaks volumes, as it implies that a large part of the nation remains closer to an old wound that refuses to heal. As an emerging historian, I cannot un-see the way our history drives our present.
Tell us about some of your past jobs prior to coming to OCCRL.
I sometimes joke that I went to college at 17 and never left, but it's true. I graduated with a bachelor's degree from Texas A&M University and immediately started working in higher education. It still astonishes me that some people do not think about their lives in term of semesters. At first, I worked in college access and then in academic advising at a regional minority-serving institution before returning to school for my graduate degree. My work has always been centered on students and equitable outcomes. Success as an advisor is measured in graduation-day celebrations, and I hope I will be able to say the same as a faculty member someday.
Who were some individuals at your community college that helped shape your success?
The faculty at Lone Star were and are some of my biggest cheerleaders. They supported me and challenged me to complete the honors program, get out of my comfort zone, and attend undergraduate academic conferences, all of which paved the way for me to later attend graduate school. I owe thanks to Dr. Lynda Dodgen, Dr. Katharine Caruso, Dr. Diana Cooley, and Professor Brian Kyser for all their support and expertise.
How did your learning and experiences at a community college lead to your further course of study and current career?
I would say it was the Honors Student Organization (HSO) that led me to my current work. HSO was modeled like an academic conference in that, throughout the semester, students would complete a research project with a faculty member outside of class and then present that work in a conference-style setting at the end of each semester. In this way, HSO gave me a taste of life as an academic, and I loved it. It seems serendipitous to me now that when I ran for an officer's position in HSO, I ran for the historians/parliamentary position. I ran unopposed, I might add, and after receiving the title, my friends began to call me Madame Historian. This feels like a nice full-circle moment since my dissertation will be on the history of community college.
Tell us something fun about yourself outside of work and education.
Oh, I'm just a big old nerd. I love vintage 1940s and 1950s clothing, bird watching, Star Wars, Marvel movies, and playing with my loveable German shepherd.
Read the previous Community College Spotlight on Jewel Bourne.