The 2023 OCCRL Equity Academy brought together a mix of community college stakeholders who delved into several topics centered on how to advance equitable outcomes for diverse student populations. Attendees of the event included community college faculty, administrators, and state policymakers. It was a day filled with varied presentations that stimulated thought-provoking discussions.

Jewel Bourne, a research assistant at OCCRL who organized the event, said this year's Equity Academy explored important issues that community colleges in Illinois are facing, with the objectives of ensuring the retention and completion of learners within these institutions statewide.

"I'm very excited for future iterations of the event and how we might incorporate lessons learned from it to continue growing and meet the needs of our community college faculty and practitioners across the state," Bourne said.

The conference started with a keynote address by Terrance Bond, assistant to the president for equity, diversity and inclusion at Heartland Community College. In the relaxed manner he's known for, Bond began his talk, "Me Against the World: Evaluating Collaborative Assumptions Towards Advancing Equity," by sharing the inspiration he gets from the Tupac Shakur song "Me Against the World."

Bond went on to explore the role of interpersonal dynamics within community colleges, emphasizing that students' adjustment to higher education goes beyond simply absorbing the usual institutionalized material and context. He argued these students instead find meaning in their educational journey through their cultural, historical, and life experiences and concluded by presenting four key assumptions for advancing equity: the existence of oppression, the presence of barriers, the availability of solutions, and the shared responsibility of all individuals.

Dr. Osly J. Flores, a professor of education policy, organization and leadership at Illinois and an OCCRL affiliate member, related educational gaps in CTE programs, sharing examples that occurred during his time as an educational specialist in the Office of Career/Vocational Technical Education (CVTE) at the Massachusetts Department of Elementary and Secondary Education, which, according to Flores, has an unwavering commitment to equity and fostering discussions about equity in K-14 education.

"Applying a racial equity lens to CVTE programming is one way to develop culturally responsive practices and is a consistent approach, or paradigm, for addressing and remediating racial inequity and advancing racial equity," Flores said during his talk.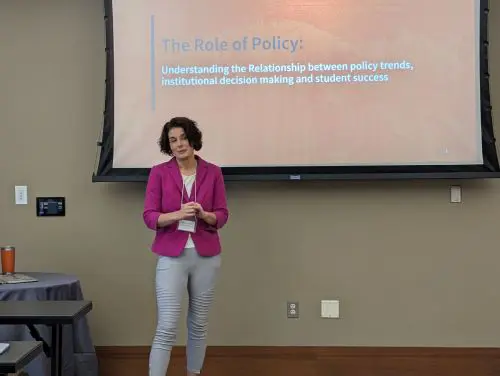 Dr. Stacy Bennett (at right), a teaching assistant professor in the College of Education, contextualized the discussions as they relate to Illinois, unraveling the roles of federal, state, and institutional policies in shaping higher education. Recent court decisions and legislation being introduced nationwide, which could be considered counterproductive for equity, were highlighted in her presentation, "The Role of Policy: Understanding the Relationship Between Policy Trends, Institutional Decision Making and Student Success."
Bennett, who also serves as an OCCRL research associate, revealed the intricate web of public policy and education issues while highlighting the challenges faced when multiple topics are bundled together in a single bill. Currently, 37 bills in 21 states deal with diversity and equity. Dr. Bennett conveyed significant concerns regarding the impact these policies may have on students of color and the overall climate these policies and sentiments may create.

Additionally, she provided recommendations on fostering diversity and emphasized the significance of identity formation, professor assistance, alumni connections, diverse faculty representation, engaging programming, cultural and support centers, mental health support, and vibrant student organizations. Research shows that a sense of belonging is a key component for student success in college, yet policies geared toward belonging are not yet fully implemented to students of color, according to Bennett.

Other concurrent breakout sessions explored unique approaches to advancing outcomes for students. A talk by Ayinde Rochon, an OCCRL research assistant, focused on using photovoice, a powerful visual storytelling technique that can empower students. In an energetic and personalized presentation, OCCRL Director Lorenzo Baber delved into the leadership frames specific to community colleges, unveiling the strategies and qualities that contribute to effective leadership within these institutions.
Overall, the 2023 OCCRL Equity Academy was a dynamic, interactive gathering that brought together those who care about diversity, equity, and inclusion in higher education, as well as equity in career and technical education. The event provided an empowering opportunity to have future conversations that may foster further discussions surrounding equitable educational outcomes among varied stakeholders.
View photos of the 2023 OCCRL Equity Academy
.