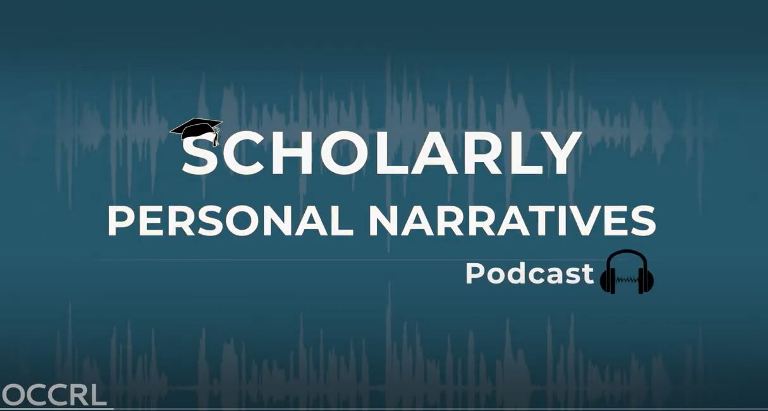 OCCRL is proud to introduce Scholarly Personal Narratives (SPN), a revealing limited-run podcast series that Dr. Eboni Zamani-Gallaher calls "a constructivist research methodology."
Scholars and practitioners are often passionate individuals who care greatly about their work—and SPN interviewees are no exception—but these individuals are not merely academicians but richly layered and simply human. Like many of us in all areas of life, they have hopes, feelings, and dreams as well as backstories that have shaped them personally and professionally. SPN showcases the experiences of educators and researchers beyond their classrooms, labs, and fields of study.
As you listen to the SPN series, we hope you will be inspired by the first-person reflections of these wise and well-regarded scholars and practitioners. Listen to what drew them into the field as well as what undergirds their commitment to fostering equitable education. Hear what their intentional actions are toward advancing positive change in the realms of racial justice and equity for all. And, perhaps most important, discover their pearls of wisdom, life lessons, and calls to action as they share their wide-ranging thoughts and feelings.
These podcasts are for everybody, but individuals whose leadership is dedicated to advancing equity for marginalized, underserved, and racially minoritized individuals should find Scholarly Personal Narratives to be especially engaging, perhaps even tools for professional development. Give the SPN podcasts a listen as they are released and drop us a note at occrl@illinois.edu to tell us what you think.
SPN Interviewees and Notable Podcast Excerpts
Amalia Z. Dache: Associate Professor, Graduate School of Education, University of Pennsylvania

Podcast excerpt: "They were involved in the activism on Ferguson streets and they brought this activism into the college campus. So, Ferguson radicalizes these colleges students to bring equity-mindedness and bring challenging domination in the community setting into the college setting."

Leslie Gonzales: Associate Professor, College of Education, Michigan State University

Podcast excerpt: "There's a method that really aligns with my own Chicana feminist epistemology, which understands that notions like objectivity and neutrality are really just convenient covers for how whiteness and masculinity have shaped the academy."

Frank Harris III: Professor, College of Education, San Diego State University

Podcast excerpt: "Just kind of reflecting on that experience and growing up in the Ninth Ward, and thinking about some of my earliest schooling experiences, it really did have a high impact on who I am: my identity, my identity as a person, my identity as a man of color, and ultimately, my identity as a scholar."

Pamela Luster: President, San Diego Mesa College

Podcast excerpt: "Number one, I'm a mom. I'm a mother. I'm a teacher. I'm a coach, mentor, student, and grandmother. And I say all of those things because that is the center of who I am, and that is the center of how I do my work."

Soko Starobin: Independent Consultant and CEO of Gratitude Expressionist, LLC

Podcast excerpt: "I thought I was strong physically and good, but I was diagnosed with an early stage of breast cancer. That was a shock. I didn't know where that came from."

Listen to the podcast.
Read the transcription.

Upcoming Shows

D-L Stewart: Professor and Department Chair of Higher Education, Morgridge College of Education, University of Denver

Podcast excerpt: "I point out my tenured status and my rank as full professor intentionally because, as a Black, trans, queer, disabled person, I'm a unicorn. I shouldn't be in the academy. I shouldn't be at this level. It's a disruption."

Asif Wilson: Assistant Professor, Social Studies Education, University of Illinois at Urbana-Champaign
Podcast excerpt: "Let's talk about the spaces where we are dismantling the harmful conditions that don't just support Black students but actually support all students. Let's start to talk about those curricular modifications of transformation where we no longer think about mathematics from a Eurocentric point of view, but we talk about our Indigenous practices."